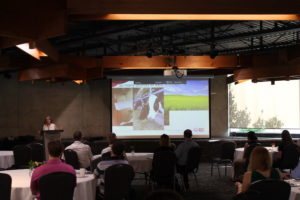 Agri-food Data Canada (ADC) held its Spring Launch event on June 2, showcasing agricultural data management and analysis advancements at the University of Guelph. The event at the Arboretum attracted a diverse audience of researchers and data users eager to explore and learn how ADC aims to build a stronger foundation for data-driven research, ensuring that the benefits of research data are accessible to all.
Michelle Edwards, director of agri-food data strategy, introduced attendees to ADC and outlined its mission. Edwards emphasized the importance of harnessing data to drive innovation, sustainability, and productivity in the agri-food industry.
A highlight of the morning session was the presentation on the Semantic Engine by Carly Huitema, manager of agri-food data strategy, along with students Olivia Willoughby and Fatimatzahra Muhammad. The Semantic Engine involves tools and training to help researchers and data scientists write better data schemas. Standardized use of the Semantic Engine would make agri-food data more findable, accessible, interoperable, and reusable (FAIR).
They demonstrated how the Semantic Engine enables efficient data integration, interpretation, and discovery, empowering researchers to extract valuable insights from vast datasets.
Dr. Asim Biswas, a professor in the School of Environmental Sciences, attended the Semantic Engine presentation.  "The topic of data and its management is a sensitive issue that tends to be avoided due to the lack of a streamlined approach. However, implementing a Semantic Engine will greatly facilitate discussions about data federation and simplify our lives," said Dr. Biswas.
The event continued with Lucas Alcantara, manager of research centre data, taking the stage to present the Research Centre Data Portal. Joined by students Anna Schwanke and Marijke Boerefyn, Alcantara showcased the portal's capabilities in facilitating seamless access to a wide range of research data, fostering stakeholder collaboration, and accelerating scientific advancements in the agri-food domain.
Dr. Ángela Cánovas, professor in the Department of Animal Biosciences, especially enjoyed the session on the data portal and said the student testimonials were a great highlight of the event.  "The breakdown and detailed diagram of the Ontario Dairy Research Centre data collection and flow was beneficial for researchers, and photos of the research station helped us visualize what is happening at the centre," said Dr. Cánovas.  "As a researcher, I am excited for the data pipeline to record all cows and health data in real-time. The data schemas and database will overcome significant bottlenecks in our research programs."
In the afternoon, attendees had the opportunity to engage in a demonstration and hands-on workshop on creating Overlays Capture Architecture (OCA) bundles, a method of organizing and storing information about different parts of data, much like a collection of packages or bundles that contain specific sets of instructions.
Carly Huitema led the workshop, guiding participants through creating bundles using real-world agricultural data. The interactive session allowed attendees to explore the practical applications of data integration and analyze its potential impact on their areas of expertise.
The event offered many data management insights for attendees like Dr. Katherine Wood, associate professor in the Department of Animal Biosciences.  "The structure of having some students give a bit of a user's perspective was helpful, and having the hands-on demo also made the platform less intimidating. I will bring this information forward to my students and encourage them to develop schemas for their work, " said Dr. Wood.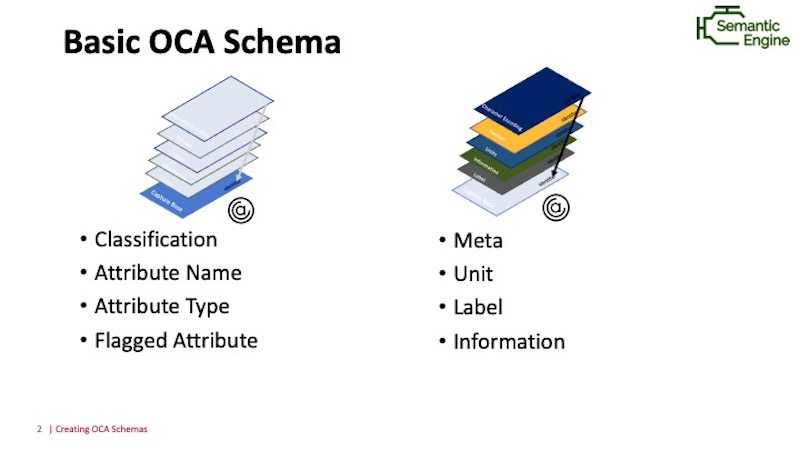 Michelle Edwards closed the event by reiterating the importance of leveraging data to support evidence-based decision-making in the agri-food sector and emphasized ADC's role in driving positive change in research data management.
The event left attendees inspired and equipped with new insights into the transformative power of data in agri-food research. Using cutting-edge tools like the Semantic Engine and Research Centre Data Portal, ADC aims to revolutionize agricultural research, decision-making, and collaboration, paving the way for a more sustainable and productive future for Canada's agri-food sector.
To learn more about metadata and schemas, check out Agri-food Data Canada Metadata Explainer Video