Welcome to the ADC Service Catalog. Here is how ADC looks for opportunities to join Researchers' journey to achieve their goals supporting the data management needs with process and infrastructure, implementing best practices to improve standards and access in their research data community, and promoting data usage and supporting reproducibility.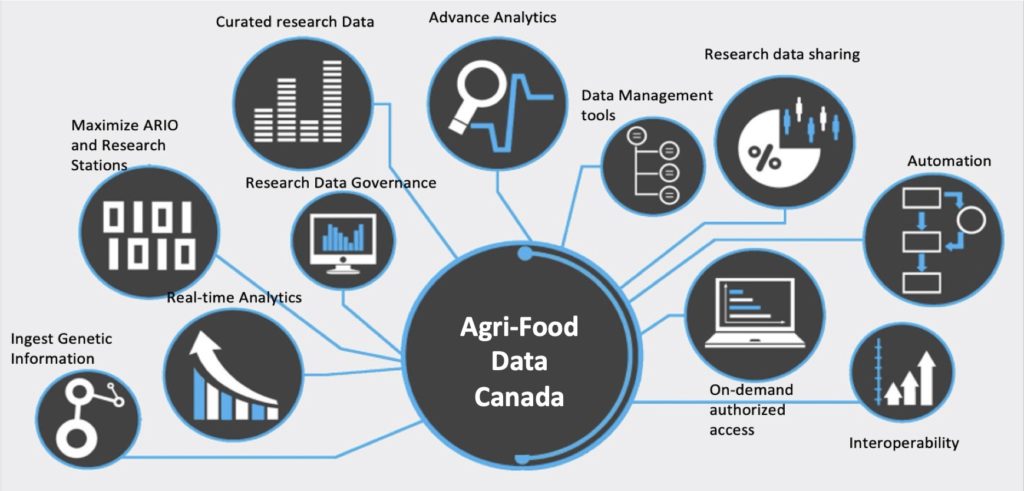 Cloud-based ecosystem
Integrated tools and software to consolidate data on climate, agronomy, water, farm equipment, supply chain, weeds, nutrients and more.
Cloud-based apps
Improve yield and profitability based on market demand.
Analyze granular data
Rainfall patterns, water cycles, fertilizer requirements, lead to increased efficiency.
Pay-as-you-go model
Cloud computing provides huge computing power and unlimited storage.
Knowledge repositories
Weather, irrigation practices, plant nutrient requirements, and several other farming techniques.
Supply chain efficiencies
Tracking and optimizing delivery truck routes food delivery cycles from producer to the market.
Examples of how ADC can support your research project are:
Enable sharing and findability of research data
Improve research data quality including machine actionability
Clarify and assist data governance
Ease access to advanced computing resources
Help with knowledge mobilization
We are looking to collaborate with researchers to develop tools, pipelines, standards, and training to facilitate data management while fostering the FAIR principles for research data and use the RDA FAIR data maturity model as a guide for developing services.